Yesterday was the last day of "Open Studios" in many cities throughout the San Francisco Bay Area. I happened to be in Sonoma County (wine country for you non-CA readers) and learned that several artists lived near the Airbnb where I was staying. Two of them, a jewelry designer and a painter, were showing their collections at the same studio barely a mile away. I liked what I had seen on their websites, so I decided to stop by on my way home.
The jeweler's booth was on the front lawn of the property, so I checked out her display first. I was particularly drawn to her "shield earrings" series, and understood why when I took a closer look: The design was based on a Flower of Life pattern. The artist, Alison Morse, knew about the sacred symbol from both a botanical and mathematical perspective, but had no idea it could be used as a feng shui remedy (to block negative earth energies).
We had a lovely conversation, but none of the beautiful jewelry said, "Take me home!" So I simply added my name to Alison's mailing list and moved on to the house, which was the painter's domain.
I did better with Dee Andreini's paintings. I was only going to browse through her collection of atmospheric landscapes and newer abstract work, and of course, look at the sale items. 🙂
Yet I kept returning to two particular canvases: "Full Bloom" and "Imagine." I eventually walked away with both of them, even though I didn't have a specific spot on a wall in my house for either. My intuition just said I was supposed to buy them – and for myself, not as gifts for others.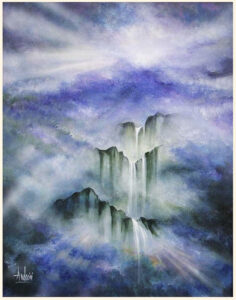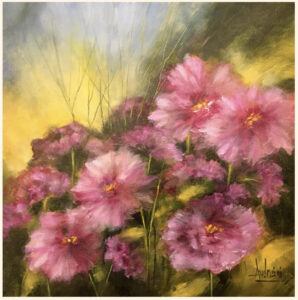 It wasn't until I got home that I figured out the perfect places for both pictures, where they'll do double duty as decorative art and remedy. Can you guess where I put them? Hint: Consider the eight areas of the ba gua "map."